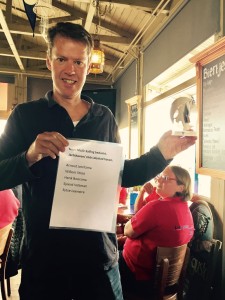 We hebben er weer een prachtige editie van de Schuttevaer op zitten.
Het maakt niet uit of ze de Schuttevaer in mei, juni of juli houden. Altijd bakken wind en bakken water.
Sjoerd is eerste geworden bij de lopers en Sytse gedeeld eerste op punten en eerste op totaal gecorrigeerde tijd. Wat een klasbakken die sporters van ons!
In de einduitslag zijn we 4e overall. Zeer tevreden, van tevoren was top 5 het doel.
De andere deelnemer, de Tien-10 uit de Jachthaven is 5e overall. Jachthaven Lelystad haven was dus goed vertegenwoordigd.
Wingps van Stentec was weer perfect, daarmee is het 's nachts in het knaldonker over het Wad knallen een feest. We gebruikten zowel de pc als de android versie, ideaal!