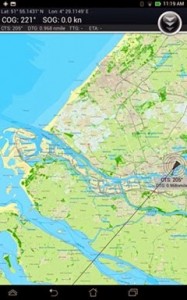 We zijn de gratis Lite versie van WinGPS™ Marine met de MaJic aan het testen.
GPS-navigatie voor watersporters en beroepsvaart op de nieuwste digitale waterkaarten van Stentec, zoals ook gebruikt worden voor WinGPS onder Windows.
De online update service en het gebruikersgemak biedt u veiligheid aan boord. Bij het opstarten wordt gecheckt of er updates beschikbaar zijn van kaarten in de geïnstalleerde kaartensets, zodat u altijd met de meest up to date kaart vaart.
Ideaal voor WinGPS gebruikers. Deze app leest uw aangeschafte DKW kaartensets uit uw Stentec user account waarvan nog een activatie vrij is en download deze automatisch naar uw Android™ apparaat.